20oz Stainless Steel Water Bottle
Price
Regular price
Sale price
$29
Unit price
per
Sale
Sold out
Details
20 oz, double-wall, vacuum-insulated stainless steel bottle with a twist-off, sealed storage compartment.
Choose Lid Type: Straw, chug, or keep it classy with our standard
Choose Bottle Color: Choose between white, grey, black or stainless steel
Choose Base Color: 14 interchangeable storage base colors

Keep it for yourself or gift to someone vital in your life.  When given as a meaningful gift, the recipient will know that they are vital.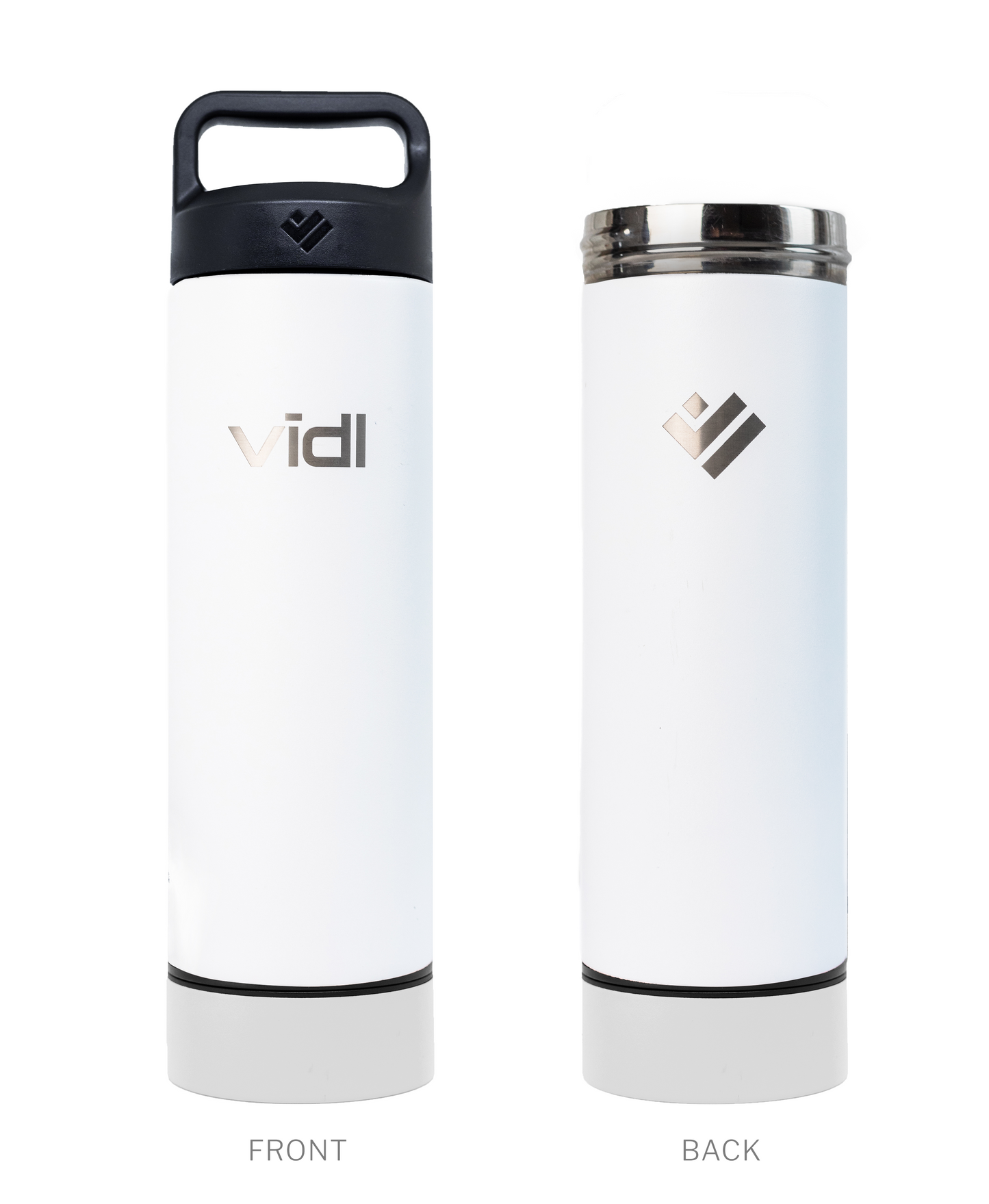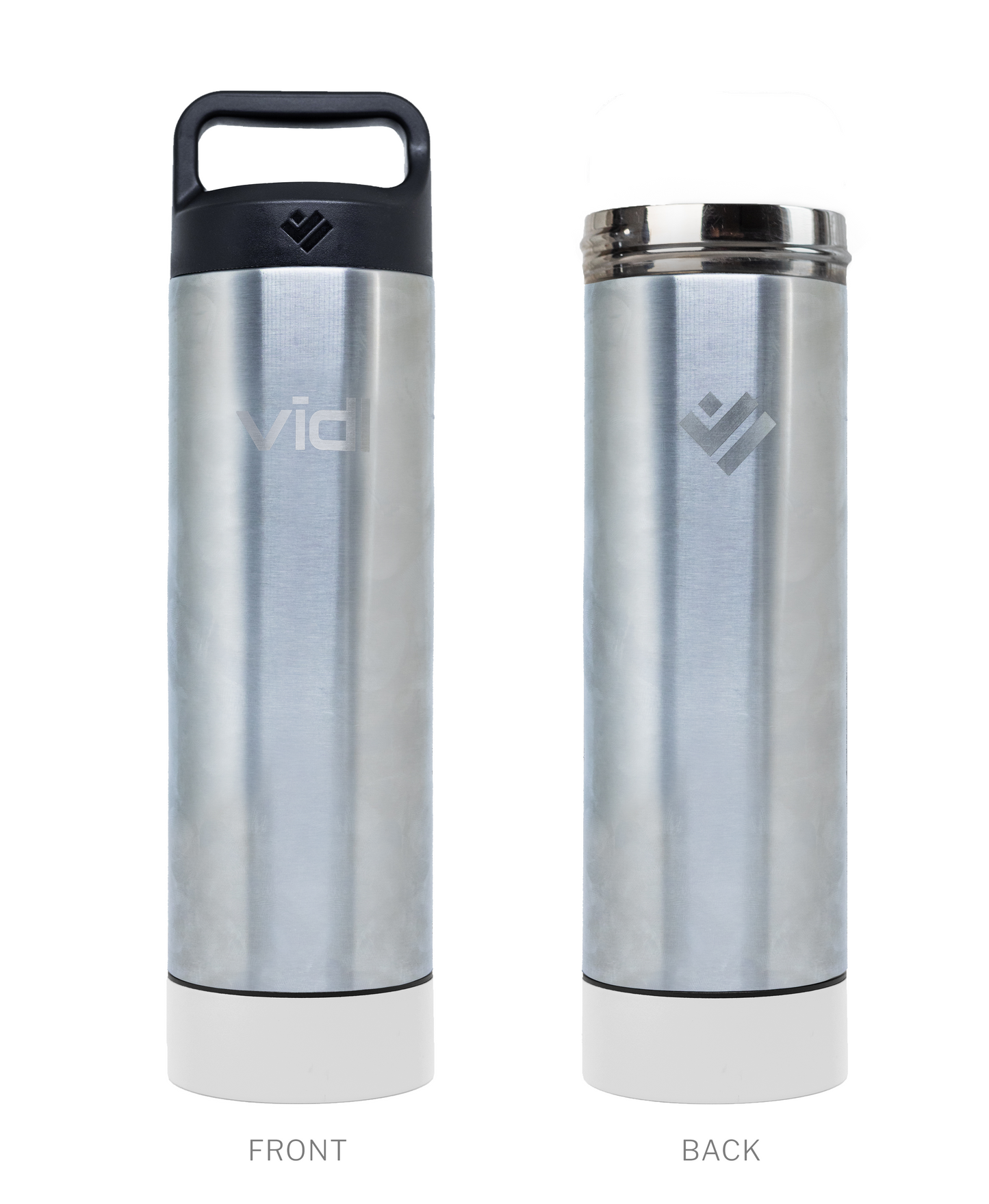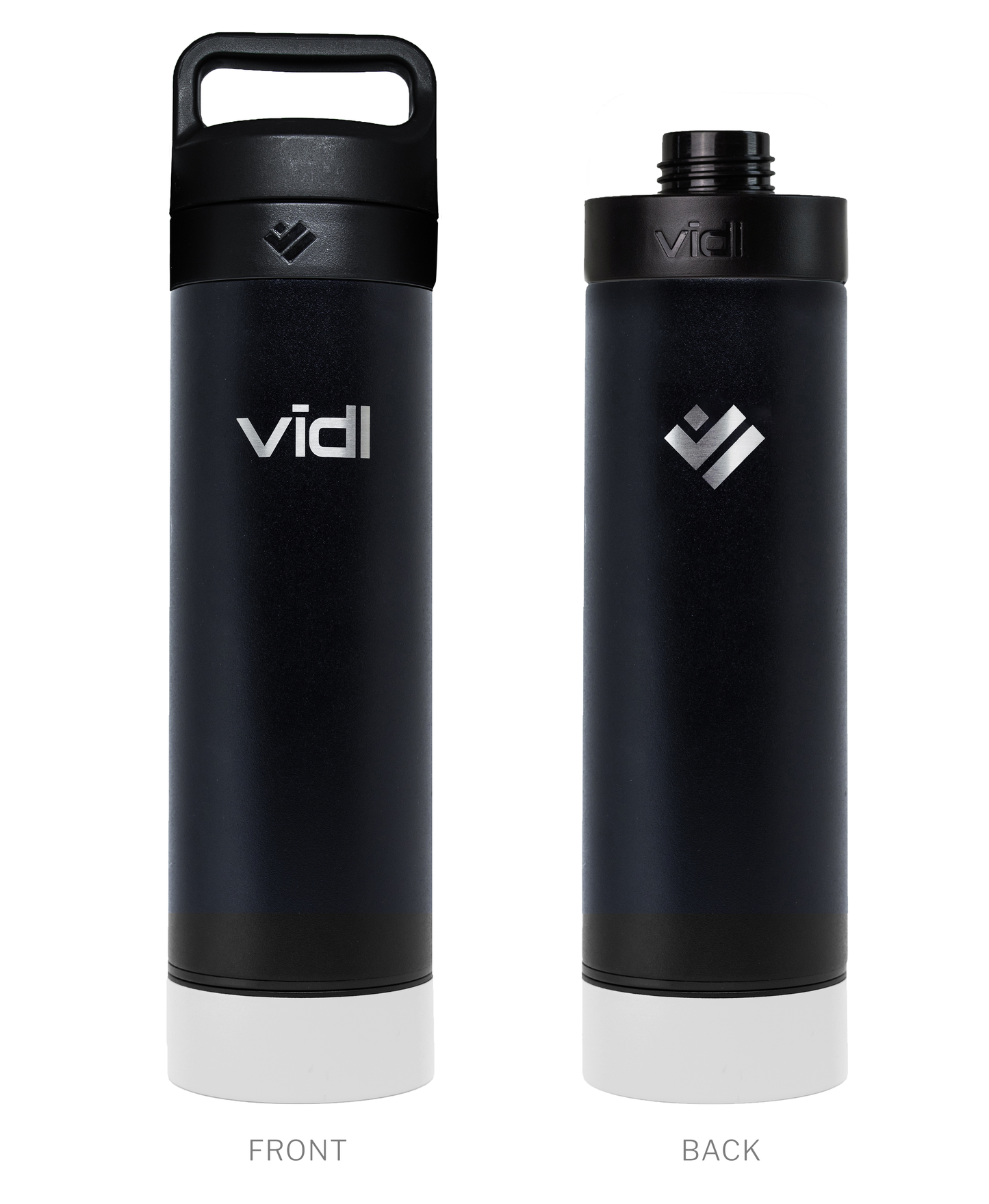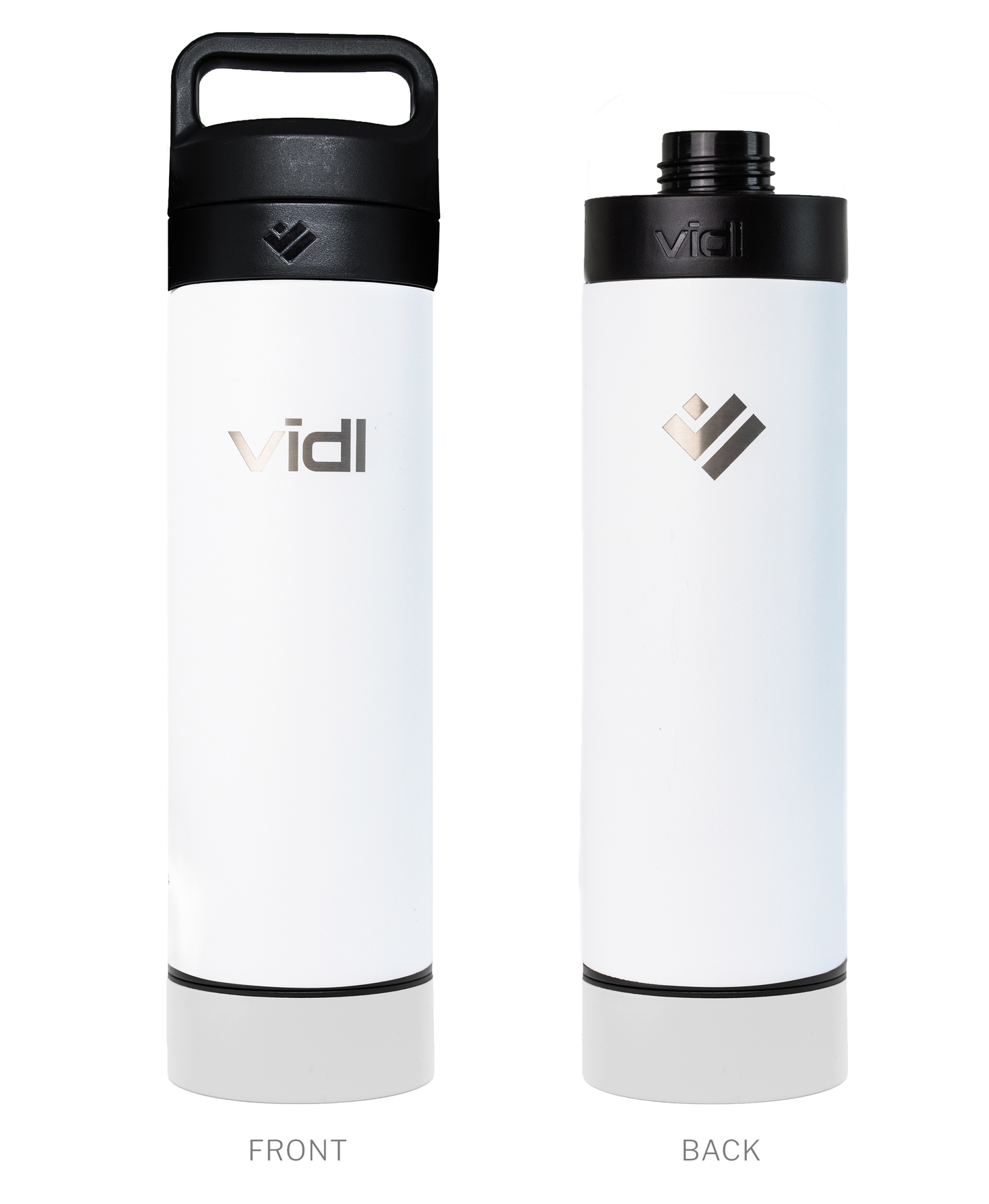 Your Water Bottle for Everyday Life
vīdl stainless steel water bottles are the perfect companion for everyday life. From the office commute to walking the dog, our water bottles keep your beverages cold - or hot - for hours so hydration is always at your fingertips.
Double-wall, vacuum-insulated stainless steel with a twist-off, sealed storage compartment. This 20 ounce bottle also makes a great gift for someone vital in your life.
Your Water Bottle for Everyday Life
vīdl stainless steel water bottles are the perfect companion for everyday life. From the office commute to walking the dog, our water bottles keep your beverages cold - or hot - for hours so hydration is always at your fingertips.
Are you looking for a water bottle that is beautifully designed and fits your everyday life?  One that fits neatly in your car cup holder, doesn't sweat all over your computer, carries the extra Vitamin C supplements you're taking, AND reminds you of something you hold dear? vīdl water bottles are beautifully designed to get you through this thing called life - happy and hydrated.
Modern & Ergonomic
The slim-line 20 oz design fits easily in ANY cupholder and is comfortable to carry with you all day long. You'll love the way this water bottle feels in your hand. Our specially engineered handle is built to fit perfectly in your grasp.
Fits in Car Cup Holders
Did we mention this fits in your cup holder? (even the hard to fit Tesla!) This 20 oz double-wall, vacuum insulated, stainless steel water bottle is perfect for taking with you on the go. It won't sweat or spill, so it's safe to take anywhere! Most cup holders are designed around restaurant to-go cups, and this base is the perfect size!
Wide Mouth With Twist Off Lid
Made of durable, high-quality 18/8 food-grade stainless steel, these sleek looking vessels have wide mouths which make it easy to load up your own ice cubes or mix in drink powders before heading off on your adventure.
The Insulated Stainless Steel Water Bottle Keeps Your Water Cold for 24 Hours Or Hot For 12.  Our double-wall vacuum insulation technology will keep liquids cold for up to 24 hours! Great for hot summer days when you want to stay hydrated. It also keeps drinks hot for up to 12 hours- perfect for those winter mornings when you need an extra boost of caffeine to get you rolling.
Other Details:
Tabbed Gaskets For Easy Cleaning
Our EasyRemove gaskets have tabs to make cleaning a breeze! AND every piece of the vīdl water bottle is dishwasher safe - including the gaskets.
Interchangeable Storage Base
Pack what's important to you in our sealed storage compartment. Interchangeable and available in a variety of colors, it twists easily on the base to hold your earbuds, keep your snacks fresh, your drink powder ready to mix, or a word of encouragement with you at all times.
All that is true, but… it's so much more than a water bottle. Living the vīdl life is a movement. What if your water bottle wasn't about status, but about sharing a little of who you authentically are. What if your bottle said, "I'm vital. You're vital. We are all vital, both because of and regardless of our differences."
Customized For Your Needs
For many people, a water bottle is more than just a way to stay hydrated; it's a statement. From putting stickers on it to the choice of color, we make it so that your water bottle says everything you want it to say.
Many companies do not offer much customization beyond the color. However, we thought a little differently. From specific colors all the way down to the packaging, we have several ways you can make your experience as authentic as possible.
Let's look at some ways you can customize your bottle.
20 Ounce Bottle Color
Your stainless steel water bottle should have the color that best reflects your style. That's why we have several colors for you to choose from, all of which are vibrant and will never fade. We're always adding new colors as well.  So conquer your thirst with style.
Storage Base Color
Many companies do not give you the ability to customize specific parts of the bottle, but we decided to give access to more customization options for all our customers.
We offer each customer more in-depth color customization options than any other company. For example, you can choose the color of your storage base. Find a suitable color. Complete your bottle with a storage base tailored for your style and your needs.
Lid Choices
The lid is where you take a sip from, so having it customized to your wants and needs is ideal. We don't believe in one-size-fits-all, so instead, we let you choose.
Our lids are wide mouth, but then you can choose from "chug" or "straw" to best suit your preferred drinking style. You can choose from three cap options based on whether you like a spout or a rim to drink from. Our lids are made from BPA free plastic, as well as our customizable bases, so put a lid on your worries, as we can give you the best lid for your needs.
Engraving
Our insulated stainless steel bottles come engraved with a motivational saying or verse. You can shop our line of Vital Messages or Inspirational Verses and choose your favorite. Shop from these for our current stock options!
Personalize your bottle with a name or phrase, up to 30 characters. 
Care
For the best taste (and if you like being hygienic,) hand wash your bottle regularly. Use hot water. You can also remove the bottle cap's rubber seal if you need a deep cleaning. You don't need to do this normally, but if there's a messy situation, doing this can get rid of any dirt as soon as possible.
If there is any problem with your bottle at all, contact us, and/or check out our return policy on our returns and exchanges page.
Shipping Costs
Shipping is calculated at checkout! We work hard to provide quick, affordable shipping for all of our customers.
Is Insulated Stainless Steel Safe To Drink From?
A stainless steel water bottle is non-hazardous and non-toxic for your body. They don't contain any disease-causing chemicals that can transfer to your beverage. One of the problems of plastic bottles is leaching. These bottles, when left out in the sun during hot days for several hours, can leach toxins into the water.
Fortunately, stainless steel doesn't leach chemicals. In fact, even if the bottle gets damaged or you fill it with boiling beverages like coffee and tea, it doesn't release harmful chemicals.
The best part of stainless steel bottles is that you can wash them easily, even with high-temperature water. So, if it falls outside in the dirt, you can remove bacteria and avoid contamination. Some stainless steel bottles are dishwasher safe, making washing simple and easy. However, make sure to check the instructions on the bottle before placing it in the dishwasher.
Note that stainless steel water bottle is a much better option than aluminum bottles. This is because aluminum is a heavy metal that can transfer into the water, leading to your body. The worst part is it can accumulate in your body, leading to health issues.
Top 5 Reasons to Choose Stainless Steel for Your Next Water Bottle
1. Stainless Steel Water Bottles are Environment-Friendly
These bottles are made from natural elements and are easy to recycle when discarded. Although plastic bottles are also recyclable, they are less friendly to the environment. The production of these bottles can lead to the waste of energy and water, making stainless steel a more friendly option for the environment.
2. Stainless Steel Water Bottles are Much More Durable than Plastic
Stainless steel bottles are durable and long-lasting. They are strategically designed to resist pressure and force to avoid getting damaged easily, making them perfect for everyday use. Plastic water bottles, on the other hand, are made for one-time use. They can easily get crushed by force and don't last long.
3. A Stainless Steel Water Bottle is Cheaper in the Long Run
Since metals like stainless steel are durable, you can use them for years. They don't show signs of wear and tear for several years, like plastic or glass. Apart from having great durability, these bottles don't produce odor or encourage the growth of bacteria or mildew that forces you to get a new bottle. Since it doesn't get damaged or cause any problems, you don't need to spend money to replace it every few months.
4. Stainless Steel Water Bottles are Trendier
Stainless steel bottles come in various shapes and designs. In fact, you can find them in several sizes that you can choose based on your school, gym, or sports backpack size. They are also trendy, which is why most people prefer them over other bottles. The best part is that your bottle will not lose its color and appeal after a few uses, allowing you to follow the trend and impress others with your stylish water bottle.
5. Metal Bottles can Keep Bacteria and Mold Away
Cleaning your metal water bottles is quicker and easier than other bottles. You can clean them with water and dishwashing liquid to remove bacteria and mold. Metal bottles are also corrosion-resistant and stain-resistant.
Therefore, you don't need to worry about damaging the bottles. This makes stainless steel water bottles perfect for regular use. You can even leave water in the bottle for days without worrying about causing corrosion. So, don't wait and get the perfect size bottle for yourself or your kids without worrying about germs.
Who Are These Stainless Steel Water Bottles For?
These are the perfect gift for anyone in your life who you want to uplift. Whether you have a buddy who needs sport hydration, a friend who is going through a hard time, want a quality and safe option for your kids to take to school, or just want to love on yourself with an extra backup for the gym. Having stainless steel water bottle in a good size is a must for everyone!